Como MINAR DUINO COIN con RASPBERRY Pi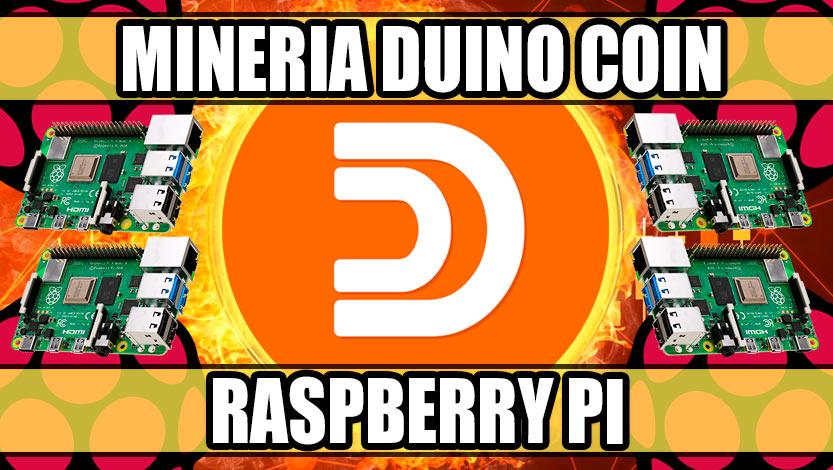 Anteriormente aprendimos como Minar con Raspberry Pi pero aprendimos como minar las Criptomonedas el algoritmo Scrypt. En esta ocasión vamos a aprender como minar Duino Coin con Raspberry Pi. Duino Coin o también llamada DUCO se puede minar con casi todo tipo de dispositivos que consumen poca energía por lo que como dice en su web oficial es un tipo de minería eficiente.
Duino Coin dispone de su propia Wallet en varios formatos por lo que tendremos que registrarnos para adquirir una y verificarla enviando un simple formulario junto con una imagen de tu Raspberry Pi o cualquier otro dispositivo pero con tu nombre escrito en papel.
La instalación del minero es tan sencilla como acceder a la terminal de tu Raspbian e introducir los comandos que nos indican en la web oficial …
sudo apt update && sudo apt upgrade -y # Update dependencies

sudo apt install python3 python3-pip git # Install python3 and git

git clone https://github.com/revoxhere/duino-coin # Clone the duino-coin repository

cd duino-coin # Enter the duino-coin directory

python3 PC_Miner.py # Launch the official miner
Una vez instalado lo ejecutamos y tendremos que seguir unos simples pasos que harán que el minero funcione con tu cuenta y se adapte a tu dispositivo.
Si queréis ver como se instala y como funciona os dejo un video que espero que os sea de ayuda …
Como MINAR DUINO COIN con RASPBERRY Pi
Enlaces de interes
Duino Coin -> duinocoin.com
Exchange -> exchange.duinocoin.com
https://foratdot.info/wp-content/uploads/2022/03/Como-minar-duino-coin-con-raspberry-pi.jpg
675
1200
Forat
https://foratdot.info/wp-content/uploads/2022/07/foratdotinfo.webp
Forat
2022-03-05 11:00:32
2022-03-09 23:49:14
Como MINAR DUINO COIN con RASPBERRY Pi